Recent Studies on the Role of Sleep

The discovery of an activation of the hippocampus during REM sleep has lent support to the idea that REM sleep plays a role in learning. Many experiments have shown that we retain newly acquired knowledge or a newly learned skill more effectively the day after a good night's sleep. And because the hippocampus is known to be heavily involved in encoding memories, REM sleep may thus contribute to learning and memory.
The activity of the inferior parietal lobule, a part of the cortex that conveys experiences to memory, decreases during REM sleep, which probably helps to explain why we have so much trouble in remembering our dreams.
| | |
| --- | --- |
| THE BRAIN DURING REM SLEEP | |
Electroencephalography is a method of recording the activity of the cortex by means of electrodes placed on the scalp. In the 1950s, electroencephalography revealed that the cortex is just as active when someone is in REM sleep as when he or she is awake. Scientists hence began referring to REM sleep as "paradoxical sleep", to call attention to this phenomenon.

But with the development of brain imaging technologies in the mid-1990s (follow the Tool module link to the left), researchers discovered other brain structures, many of them located deep below the cortex, whose activity was greatly altered during REM sleep. In some of these areas, activity increased during REM sleep, while in others, it decreased. But what was remarkable was that this increase or decrease in activity was consistent with the particular kind of dreaming that occurs during REM sleep.
Brain imaging studies have found, for example, that the primary visual cortex, the first part of the brain involved in consciously decoding visual signals when people are awake, shows very little activity when they are dreaming during REM sleep. This is no surprise—when people are dreaming, their eyes are closed, and no visual signals are reaching them.
But brain imaging studies have also shown that certain extrastriate visual areasof the cortex, which decode complex visual scenes, are significantly more active during REM sleep. Thus, during REM sleep, these areas are apparently involved in analyzing complex visual scenes. This is completely consistent with the often highly elaborate visual dream scenes that people report when researchers awaken them from REM sleep.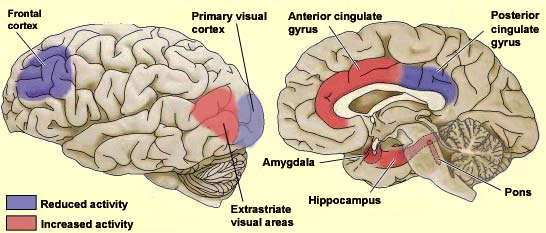 Adapted from Neuroscience, Purves et al., from Hobson et al., 1998

During REM sleep, intense activity is also observed in the limbic system, a set of structures heavily involved in emotions. Two of these structures are especially active: the hippocampal regionand, in particular, the amygdala. Once again, it is interesting to note that this intense limbic activity does not occur during the phases of non-REM sleep , when the dreams that people have are far less emotional.
The frontal cortex is a part of the brain that maintains very close ties with the limbic system. Yet the frontal cortex remains relatively calm during REM sleep. The prefrontal cortex, which is part of the frontal cortex, is heavily involved in thought and judgment when we are awake. Its low activity during REM sleep might thus account for the bizarre, illogical, and often socially inappropriate content of people's dreams.
The anterior cingulate gyrus, which governs attention and motivation, is also more active during REM sleep, which may be part of the reason that the images we see in dreams are so vivid and so changeable.
Lastly, the pons is also more active during REM sleep, which makes complete sense, because even though the elaborate dreams that occur during REM sleep certainly involve the cerebral cortex, it does not seem to be involved in triggering REM sleep: REM sleep is triggered by certain nuclei (groups of neurons) in the pons.